'Really good people leave': Low wages, hard work drive out caregivers for disabled | Politics
"Our job is support Maria. We want her to be as independent as possible," said direct-support professional Shayla Glamann, who assists Maria Fields out of her home in Florissant on Monday, Sept. 20, 2021, to go bowling. Photo by Laurie Skrivan, [email protected]


Laurie Skrivan


FLORISSANT — Someone is with Maria Fields seven days a week, from 6 in the morning until 10 at night. They visit the park together, take her to see the doctor, and make her favorite PBJs.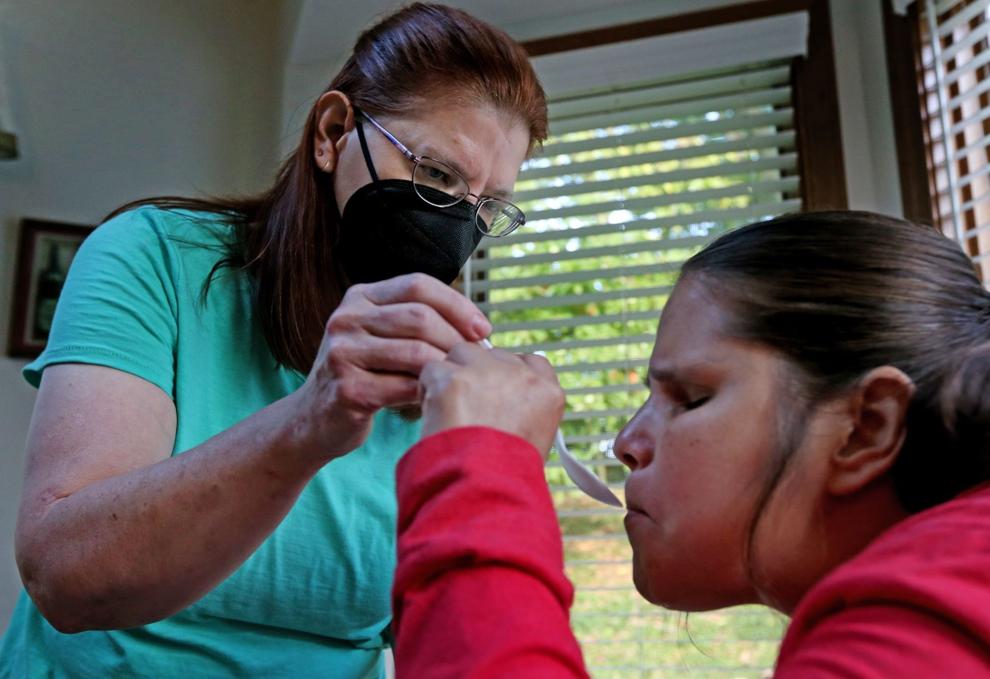 "A lot of blood, sweat and tears go into taking care of Maria," Lisa Kaliski (direct-support professional) helped Maria Fields mix the last bit of medicine into her yogurt on Tuesday, Sept. 20, 2021 at Fields' Florissant home. Kaliski is part a team of direct-support specialists that provide companionship and care to Fields, 34 years old, who is blind and has development disabilities. Direct-support professionals also have other duties, such as teaching life skills, cooking, cleaning, chauffeuring, and entertaining Fields in the community. Photos by Laurie Skrivan, [email protected]


Laurie Skrivan


Maria is 34, blind and has autism. It takes a team of special workers rotating through parents Beverly and Carl Fields' home in Florissant to care for her. It's becoming more difficult to find the right team members.
"We've seen some really good people leave," Beverly Fields. "And they wanted to stay. It breaks my heart when someone leaves Maria. She is very emotionally attached to her staff."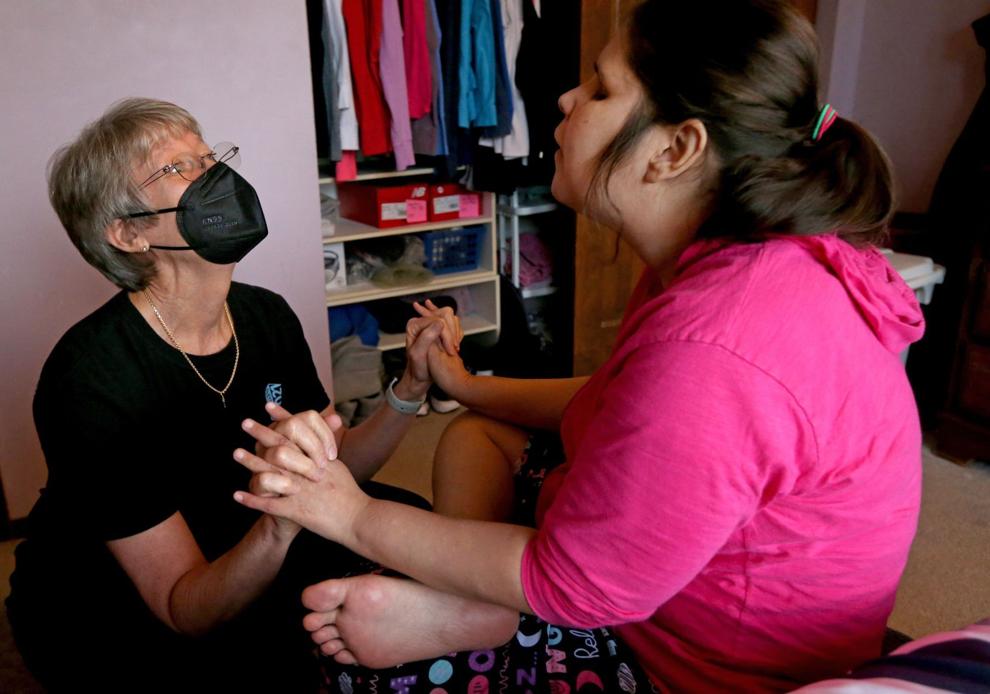 "Let me see your gorgeous face," Beverly Fields, who wishes Maria Fields a great day before her departure for work on Wednesday Sept. 22, 2021 at her Florissant home, said that she wanted to wish her daughter Maria Fields a great day. "The support professionals allow me to be Maria's mom. I know how blessed we are to have them," Fields. Photos by Laurie , [email protected]


Laurie Skrivan


Direct-support professionals care for thousands of Missourians with autism, cerebral palsy, Down syndrome and other intellectual and developmental disabilities. After they turn 21 and leave the school system, disabled adults would be completely dependent on their families. But, the most important behind-the scenes role has been underpaid and neglected. Direct-support workers are often paid less than those working as pizza-delivery drivers or shelf stockers, and even cashiers. And as other industries increase wages in response to widespread employee shortages, disability-service organizations — shackled by reimbursement rates set by the state — are losing even more ground in the competition for job-seekers.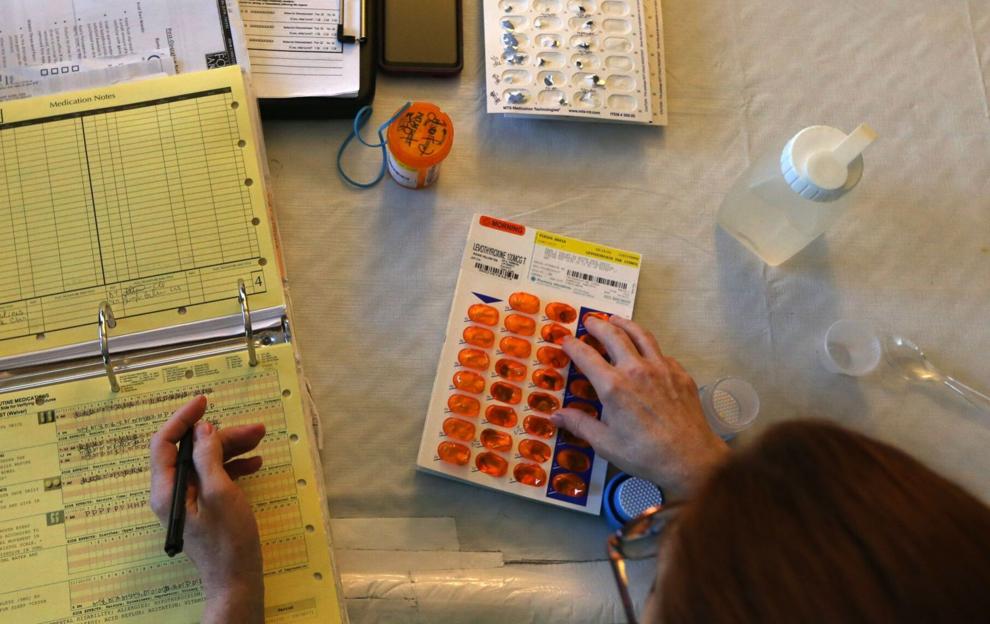 Lisa Kaliski, a direct-support professional, prepares Maria Fields' morning medication on Wednesday, Sept. 22, 2021 at Fields' Florissant home. The Fields support team administers medication twelve times a day. Photos by Laurie , [email protected]


Laurie Skrivan


Low pay and high demands fuel a worker churn that leave nonprofits and families in a constant cycle of hiring, training and forming new relationships.
Maria is very verbal and requires help with daily tasks that many people take for granted, such as using the toilet, dressing, and eating. Maria's medical information, schedules, and behavioral interventions are all stored in a 2-inch binder.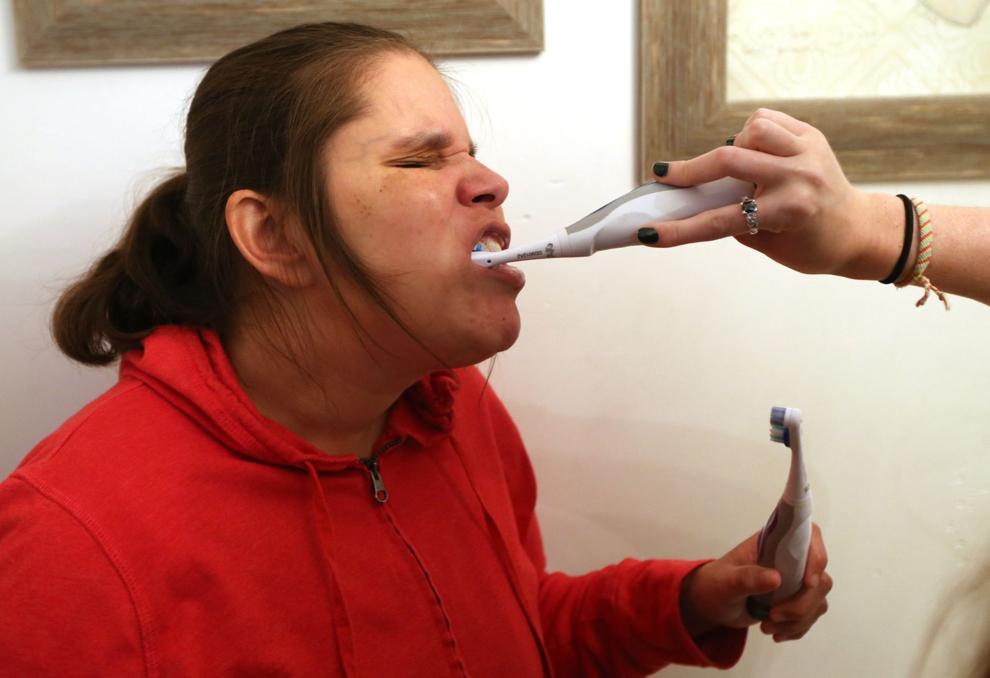 Shayla Glamann, a direct support professional, reaches into her binder with her toothbrush after Maria Fields, a Florissant resident, started the task on Monday, Sept. 20, 2021. Photo by Laurie Skrivan, [email protected]


Laurie Skrivan


Maria's team keeps track of her crowded calendar of appointments with doctors and therapists. They coax her into carrying her laundry to the washing machine, clap for her when she plinks out some notes on a musical keyboard, and prompt her to wave to the neighbors when they're out on a walk.
"We all try to make her be as independent as she possibly can," Lisa Kaliski has been paired with Maria for six years through the non-profit Easterseals Midwest.
Easterseals is based in Maryland Heights and provides in-home and shared living support to over 650 clients in eight counties in Missouri, Illinois. Even with a $1,500 sign bonus and an increase in hourly pay to $15, the organization is still 300 short of its full staff of 1,700. Clients who need 24-hour support can expect placement in a house to take six months. This is twice the time it took in previous years.
Julie Weidman's 20-year-old daughter, Anna, has autism and cerebral palsy. Weidman, a west St. Louis County resident, decided years ago that she would find her own support staff for Anna. It has been getting harder and harder for Weidman find workers, let alone keep them. Many times, she hasn't even gotten past the interview.
"They shut us down once we talk hourly rates," She said.
When Weidman's husband died suddenly last year, she knew it was time for a shared-living arrangement for her daughter. She worried she wouldn't be able to help Anna out of the house on her own if there was an emergency. It was becoming difficult for her to get out of bed and get ready for school.
"There have been some mornings where it's been so difficult just getting her up, I nearly break down in tears and think, 'I don't know how to deal with this anymore,'" Weidman said.
In April, the state approved Anna's eligibility. Weidman found an Easterseals placement at a house just five minutes from his home.
"This will allow me to be Anna's mom and not Anna's caregiver," She said.
The right applicant
Kaliski started as a direct-support professional three decades ago, when she was living in Chicago. She has returned to the profession several times and left the profession many times over the years. Although she finds the work fulfilling, it can be hard to justify the salary. Her husband's job allows her to get by.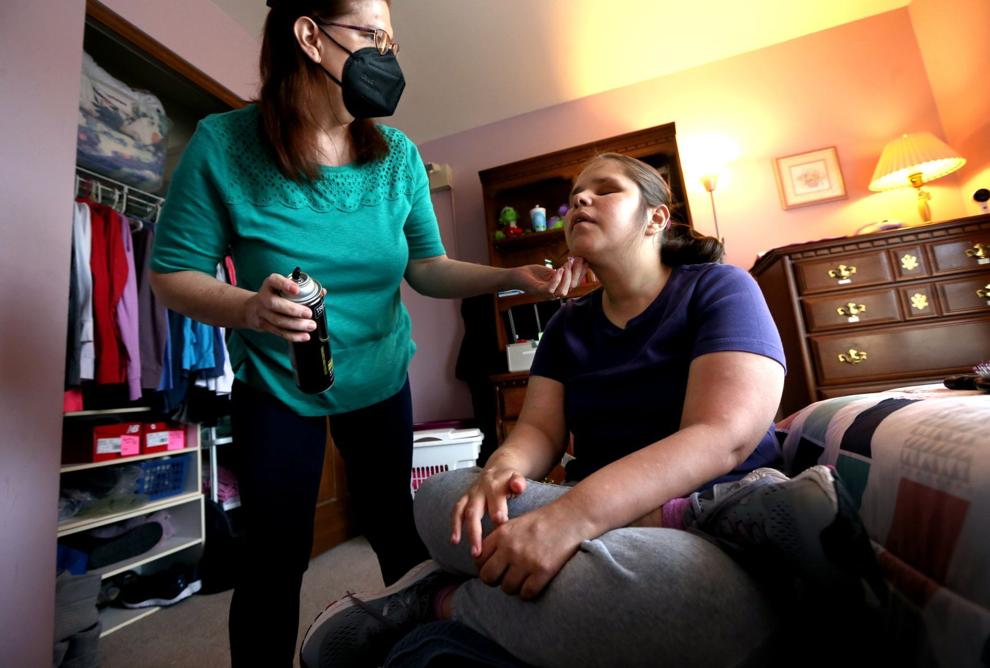 "I want Maria to live her best life. Over time the three of us have build trust and rapport. Beverly (Maria's mom) and I like to joke around that I am like Maria's second mom and due to our age differences Diana and Shayla are her sisters," Lisa Kaliski is a direct-support professional who prepares Maria Fields for her day at Fields' Florissant home on Tuesday, September 20, 2021. Kaliski is part a team of direct-support specialists that provide companionship and care to Fields, 34 years old, who is blind and has developmental disability. Other duties include teaching independent living skills, cooking, cleaning and chauffeuring Fields around the community. Photos by Laurie , [email protected]


Laurie Skrivan


Many direct-support workers find themselves in tougher financial straits. In 2019, the average Missouri salary was $11.67 per hour. More than half receive some type of government assistance. One in four of them falls below the poverty level.
"It's hard to make ends meet," Michele Roedder is a St. Louis Arc support manager, a Creve Coeur-based nonprofit.
Arc is a mid-sized nonprofit that manages 35 homes for 110 people. The agency currently employs more than 200 people in residential settings. Roedder joined Arc 20 years ago as a direct-support worker. She has worked her way up since then. She is the manager of a Hazelwood home for five residents.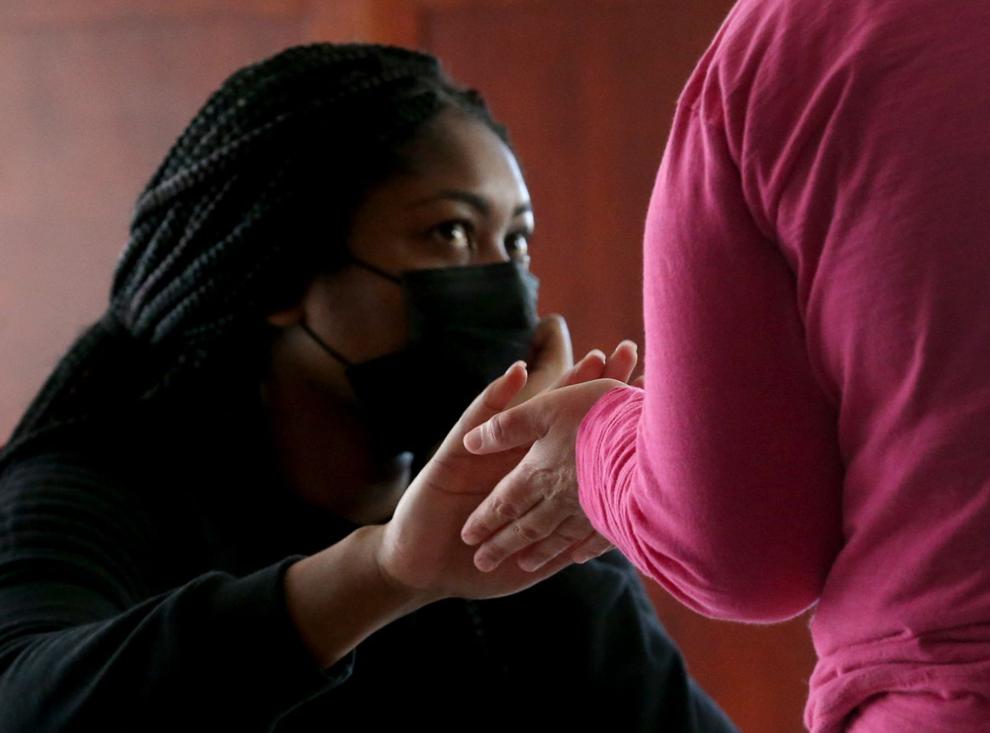 Diana Thuo, a professional in direct support, gave Maria Fields a high five during an online speech therapy session. The session was held at Fields' Florissant home on Wednesday Sept. 22, 2021. Photos by Laurie , [email protected]


Laurie Skrivan


Filling openings on her team is a challenge. A man she hired over the summer almost immediately quit after landing a job at a shoe store — for the same pay but with far fewer responsibilities, Roedder said. She needs more applicants but also wants the right type of applicants.
"Here, we're talking about personalities, not just pushing papers," Roedder said. "You have to be gentle, kind and open-minded. You really affect people's lives."
Arc's starting pay was raised to $14 an hour in July. This is a $2 increase. It feels like a never-ending race to catch up. The average hourly rate in U.S. grocery stores and restaurants was over $15 last month. Costco, Best Buy, and other large companies employ workers at this rate.
A growing need
Disability advocates and agencies have been sounding the alarm for years. In 2017, the President's Committee for People with Intellectual Disabilities reported on three decades of obstacles in finding, keeping and educating staff, calling the problem "untenable" and blaming low wages, poor benefits, limited training and lack of career-advancement possibilities.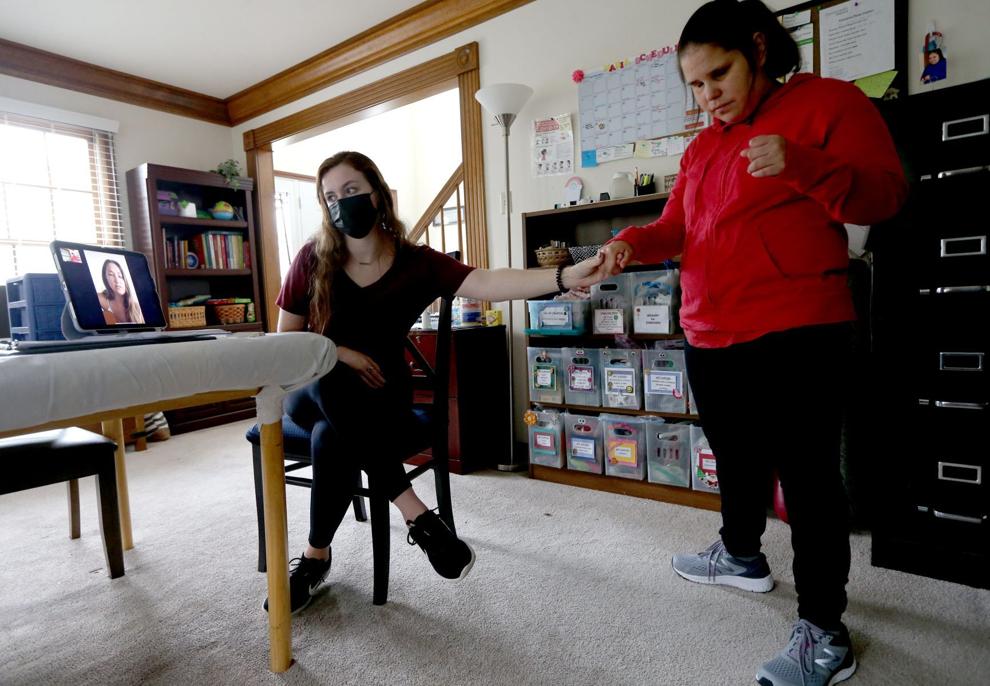 Shayla Glamann, a direct-support professional, uses touch to help Maria Fields refocus during her online music therapy session on Monday Sept. 20, 2021 at Fields' Florissant home. Photo by Laurie Skrivan, [email protected]


Laurie Skrivan


The situation further deteriorated under the strain of the pandemic. Some workers quit their jobs because they were worried about being infected with the virus. Before vaccines were available, agencies couldn't safely float employees between houses when they were short-handed. Burnout was common.
Roedder worked up to 70 hours per week during the early days COVID. She was responsible for both her supervisory duties as well as pinch-hitting with ground assistance. She did her best to keep her team happy and surprised them with small treats such as gum packs and thank-you notes.
Agency turnover rose to more than 50%. Many new hires never made it past the three-month mark. For managers, that's a costly, time-consuming headache; for residents, the repercussions are even more distressing.
"The folks we support always have to meet someone new who can care for them," Arc's human resource director Sherry Grody said, "That's a costly, time-consuming headache." "They become numb to the fact that someone they don't know is helping them use the bathroom."
Missouri has more than 23,000 people receiving direct services. This is a 40% increase since 2011. According to the Missouri Division of Developmental Disabilities (DDD), the number of direct-support workers has modestly increased to 30,000.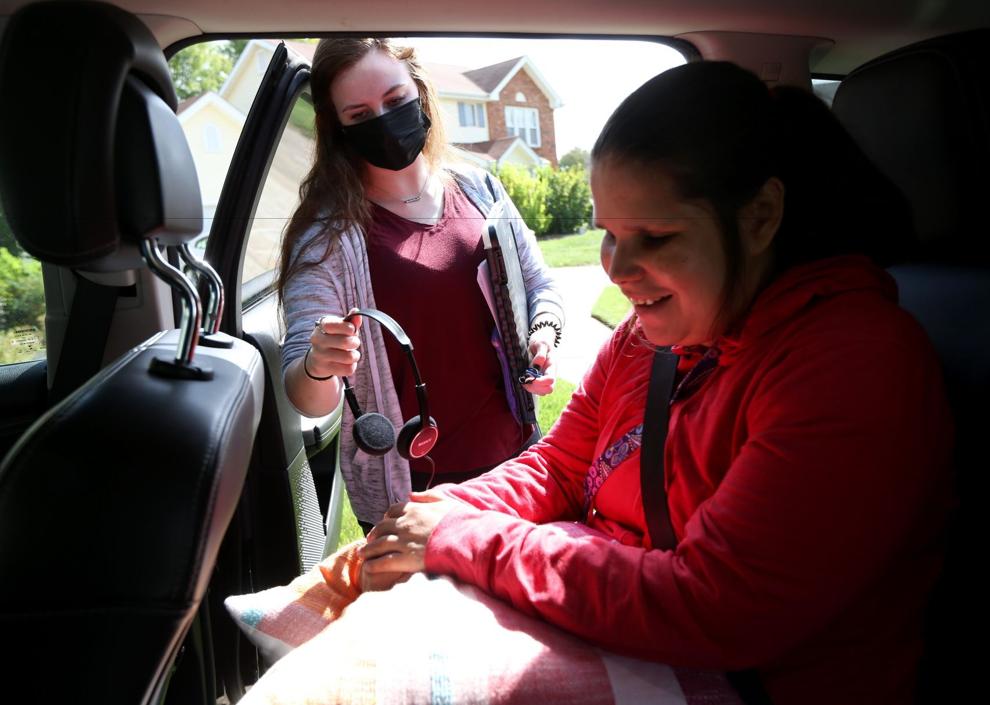 "We want to empower Maria by offering her choices," Shayla Glamann is a direct-support professional who gives Maria Fields a pair if headphones after she decided to listen to music on her way to a bowling tournament on Monday, Sept. 20, 2021. Photo by Laurie Skrivan, [email protected]


Laurie Skrivan


"The need is never going to go away," said Grodner.
People with intellectual or developmental disabilities live for decades longer than those without them. An aging U.S. population, in general, means home health aides and nursing home assistants — which draw from the same pool as support workers — are also in high demand.
Agencies are limited in their ability to pay the right amount. The state sets reimbursement rates. Two thirds of that amount is covered under a federal match.
"Every year, we are working with elected officials on why this is critical," Erika Leonard, executive director of Missouri Association of Rehabilitation Facilities, is a lobbyist group based in Jefferson City. Leonard must reintroduce this issue to new legislators due to term limits.
"We're stuck in this quicksand," She said. "Everyone is fighting for the same dollar."
There have been some signs of improvement. The federal approval is needed for the spending proposal to cover a $12.39 an-hour reimbursement rate. This spending proposal is being prepared by the Missouri Department of Mental Health Division of Developmental Disabilities.
The American Rescue Plan provided short-term funding this year for community- and home-based services. In June, the Better Care Better Jobs Act was introduced to boost Medicaid and give incentives to states to increase their direct-care workforce. Missouri's budget includes $56 million to increase rates paid to service providers.
Not disposable
Competitive wages are crucial, but only part of the solution. Direct-support workers have been, historically, marginalized, just as the people they support. Many people who don't have a disabled family member don't know much about the work of a direct-support professional. The U.S. Bureau of Labor Statistics does not recognize the occupation. High school students are rarely promoted to this career path.
"At some point, we have to value the people doing this work and not view them as disposable," Wendy Sullivan is the CEO of Easterseals Midwest.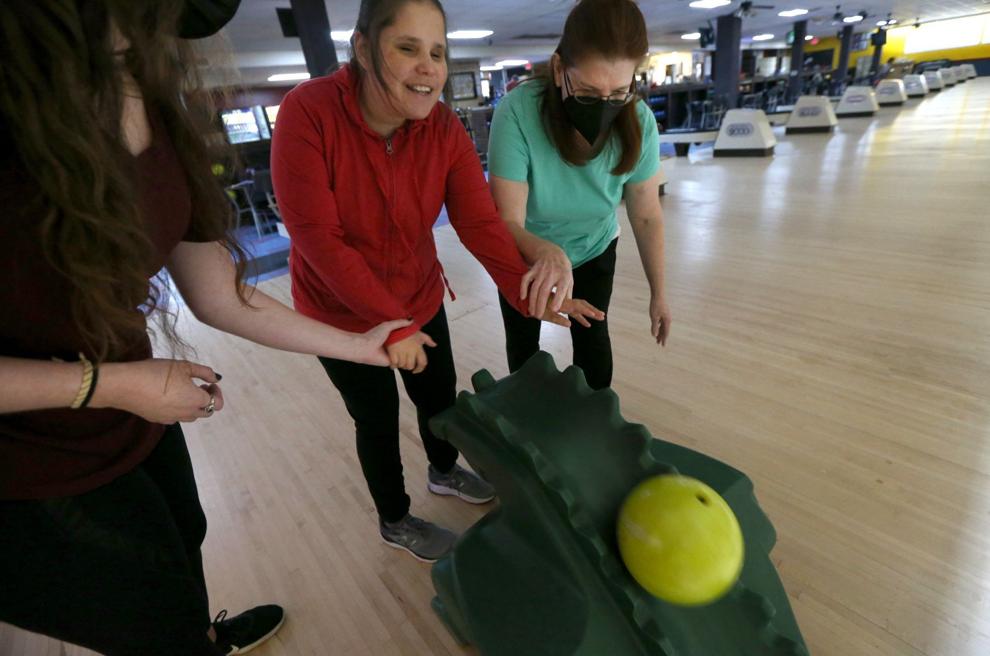 Shayla Glamann and Lisa Kaliski, direct-support professionals, are flanking Maria Fields during a game at Kingpin Lanes, Bridgeton, Monday, Sept. 20, 2021. Two support staff are available to help Fields with any safety, behavioral, or medical issues. Fields loves to go bowling and the owner often turns down the volume for them, as Fields is sensitive. Photo by Laurie Skrivan, [email protected]


Laurie Skrivan


Stakeholders have been working on possible solutions. Many are adopting technology as a way of monitoring residents remotely. This fall, the Department of Disabilities will pilot a small apprenticeship program.
At the tiny support nonprofit L'Arche St. Louis, recruitment efforts center on college graduates seeking a gap-year job before returning to school or beginning their careers. Although the agency has had success filling the 30 positions at its three homes, there are downsides. May and August can mean shifts in work schedules and disruptions to the flow of the houses.
Joyful House is a Maplewood home with four residents who love baking and a large front porch. Two support workers left Joyful House last month. The departure was marked by homemade chocolate chip cookies and pizza.
Mary Ellen Wojciechowski (52), has seen many direct-service professionals leave and come since she moved in four years ago.
"It's kind of sad," She said. "Because you have to say goodbye."
Daily updates about the latest news in St. Louis' business community.