Pizza Ranch marks 40 years of business | News
REGIONAL—It's been 40 years since Adrie Groeneweg rounded up enough cash to open the first Pizza Ranch in Hull.
"Yet, it seems like it just started not that long ago,"Groeneweg is the founder and chief executive of the Western-themed chain restaurant that has more than 200 locations in 15 states.
He started welding at the age of 19 and worked at a Sioux Center pizza parlor. He noticed that many people from his hometown frequented the restaurant and thought of opening a Hull pizza shop.
Groeneweg was encouraged by his father Bill and received financial support from him. The first Pizza Ranch location opened on Dec. 21, 1981.
Adrie Groeneweg was the founder and chief executive of Pizza Ranch. He opened the first Midwest Pizza restaurant in Hull in 1981. 

Photo submitted

The pizzeria pioneer lived at home with his family during the business' first year of operations, which Groeneweg said was a good thing since the money he earned from the restaurant mostly went to paying bills.
"That's just the way it works when people start new businesses,"He said.
With the help of investors, the pizza shop gained popularity in the region and a second store was opened in Orange City in 1982.
Groeneweg received a call the next year from a Minnesota businessman interested in purchasing the pizza recipe. Groeneweg declined the offer and instead asked the caller if he would be interested in a Pizza Ranch franchise. He agreed and the first Pizza Ranch franchise opened in Mountain Lake, MN in 1984.
"Then six years later, we had 50 stores," Groeneweg said. "It was crazy."
At that time, he said the company's niche was establishing locations in small communities of 5,000 people or fewer.
Throughout the first 15 years of Pizza Ranch's journey, Groeneweg mainly worked in the Hull and Orange City sites. Later, he found himself on the road to visit new shops as they opened.
He also enjoys helping out with daily tasks at the Pizza Ranch branches.
"They look at me, and they're like, 'You know how to make pizzas?' It's like, 'Well, I've done — I don't know how many — but I know I've made thousands of them,'" Groeneweg said.
He reflected on the company's resilience over the past 40 years and how it has come out stronger. He cited the recent coronavirus epidemic that struck during the past year-and-a-half as an example.
Jon Moss, the company's senior vice president and chief brand officer, noted how COVID-19 has been the most challenging period he has experienced in his more than 20 years working for Pizza Ranch.
Pizza Ranch was primarily a restaurant that serves dine-in customers. The business had to change to provide to-go orders as well as more delivery services when the pandemic struck. This was to ensure the safety of both workers and customers. Pizza Ranch is also dealing with supply-chain disruptions, workforce, and other pandemic-related challenges.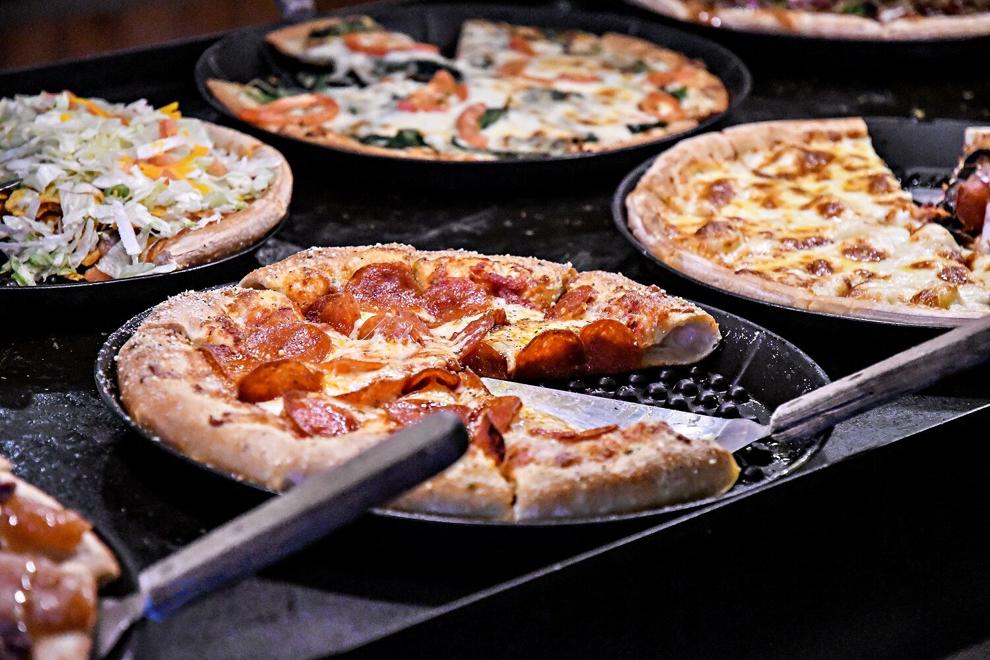 A pepperoni pizza was one of several pie varieties to be found on the Hull Pizza Ranch's buffet station over a recent lunch hour.

Randy Paulson
[email protected]
"You can go to any Pizza Ranch, almost, today and you can find that most of them are hiring," Moss said.
Throughout the pandemic, however, Moss said Pizza Ranches — especially around N'West Iowa — have continued to enjoy strong support from their surrounding communities.
The company's response to the pandemic and leadership under Groeneweg also contributed to the 60-year-old chief executive being named the Iowa Restaurant Association's 2021 Restaurateur of the Year in November.
"That's how God works too: A disaster happens, and then in the end, you become stronger than what you were and that's exactly what happened. That's why they honored me with that," Groeneweg said.
When it comes to Pizza Ranch's future, Groeneweg said he's looking forward to seeing his sons — Spencer, Ross and Trent — continue to grow as leaders within the organization. Spencer is a district manager, while the other two are store general managers in Orange City, MN and Worthington, MN.
Groeneweg also hopes to see the company open its 500th store. Groeneweg said that when this milestone is achieved, the company will be a success. "it'll be a whole different game again."
He repeated a phrase he often tells prospective franchise owners when they visit Pizza Ranch's corporate headquarters in Orange City: "Even though we're 40 years old, it still feels like we're just getting started."