Experience Lightning in a Bottle Through Zach's Lens
Photo Credit: Six degrees Creative
Take a trip back to Lightning in a Bottle with these hand-selected photos that will weave you through Zach's experience at the festival!
After a few difficult years, things have finally settled down. Lightning in a BottleIt made its return to Kern County in the Buenavista LakeIt was as magical and memorable as ever. Between the incredible variety of music, beautiful lake weather, thought-provoking workshops and art, mouth-watering food, and top-notch vibes from the attendees, this edition of Lightning in a Bottle reminded everyone why it's one of their favorite festivals.
The music was the driving force behind the event, with hundreds performing on six different stages that span from Thursday night to Monday morning. You can buy tickets to see live acts at The Arena, regardless of whether you purchased a ticket. Lightning And Grand ArtiqueThe bass artists at the Thunder And StacksHouse, techno and more at the WoogieThe all-encompassing Junkyard, which is centrally located, had something for everyone. My group arrived Wednesday morning to a brutal 105 degree day. However, we managed to set up camp and were ready to start the weekend on Thursday.
Thursday was the Desert Hearts Launch Party at LiBeach. We were treated to unique sets by Mikey Lion, Marbs, and swam around the lake.
This was the second consecutive year. Desert Hearts teamed up with Lightning in a Bottle to throw a takeover on Thursday, and I'm confident there is no better way to kick off a festival than with another mini-festival. As campers from High Noon to Sunset and Sunrise flooded into LiBeach, Mikey Lion and Marbs kept the music rolling. The party began at 9 AM and ended at sundown. It was the perfect way for campers to beat the heat and groove. The perfect location of LiBeach in the middle festival gave the launch party a picture-perfect atmosphere.
If you want to listen to the music from the water, it's easy. You can join the crowd and dance with the others. The world was your oyster. I felt like the world was my oyster when I started the festival with the DH crew. After attending EDC Las Vegas, this was the perfect reset. I felt ready to tackle the next three days in LiB after a quick dip in Lake Powell, accompanied by some funky tunes played by Desert Hearts's masters.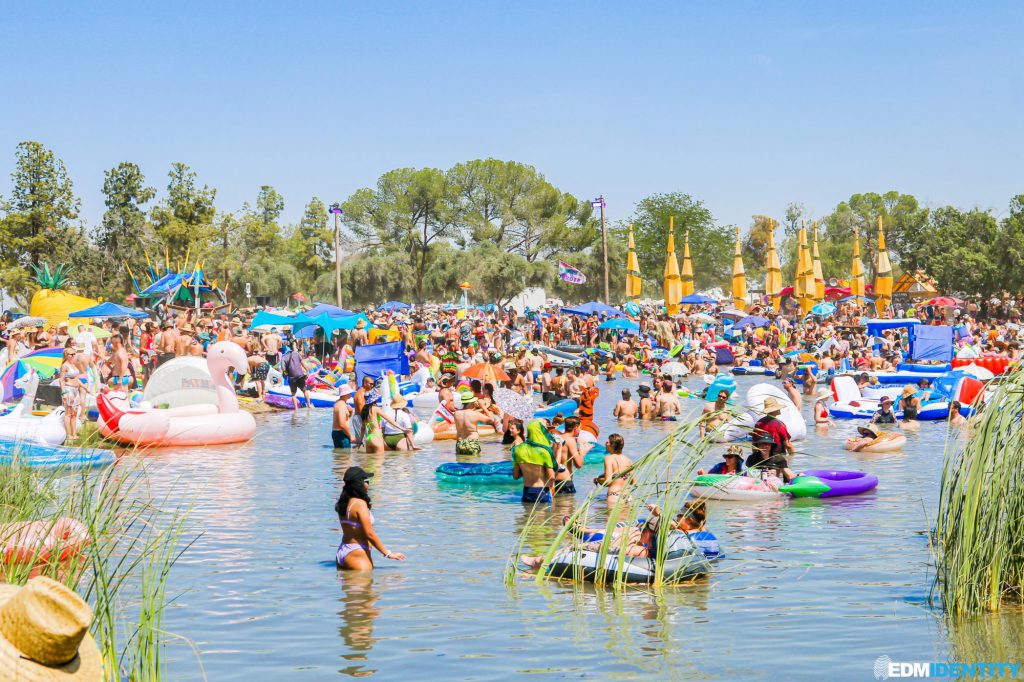 Photo Credit: Six degrees Creative
Thursday was full of talented artists. I found myself at Grand Artique most evening after having been warm up at Desert Hearts launch party.
The Grand Artique, a part of the festival that is Western-themed, features a carefully crafted music lineup. It featured a general market where you could trade or barter almost anything, a pickle shop where your salty craving can be satisfied, and more. But the best part of the Grand Artique is the music.
OFIERTwo sets were played on Thursday. One at The Junkyard, and one late at the Grand Artique. His Grand Artique set was a highlight. Both were great. OFIER effortlessly switches between melodic and euphoric techno tracks, to ripping the guitar through the mix. His sets are exciting, dynamic, and constantly changing thanks to the beautiful combination of electronic and live elements.
Follow us on Twitter or Pinterest or Google News: Read the latest content, follow us and get notified when the new article is being published.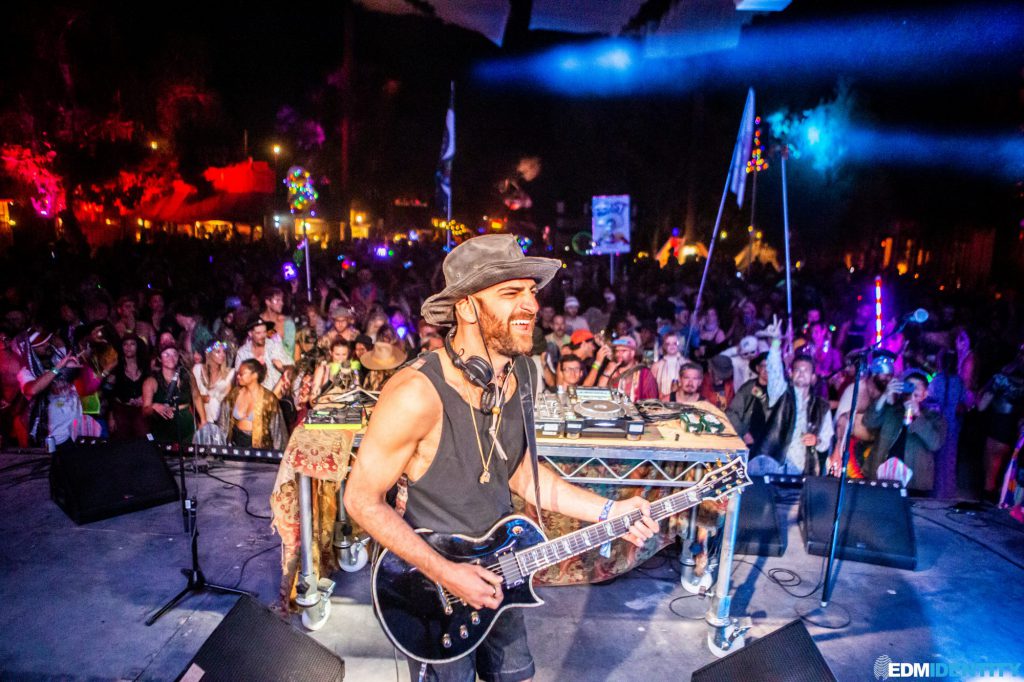 Photo Credit: Six degrees Creative
After OFIER's set, Kaipora took the stage.
Kaipora The Grand Artique was home to one of my largest audiences. The unique combination of live instrumentation with bass music was well-received. Ronnie is an alien with impeccable timing. He plays the Akai mini basslines and does all the drumming on the launch pad. Kevin adds rhythms to each track and also raps.
They performed together with McFiddles, and vocalist Embher. This brought a warm family atmosphere to their set. They performed such an inspiring set that audience members were able to get up on stage by the end to dance, hoop and rap along with McFiddles and vocalist Embher. Kaipora brings something new to the experience each time, and that will always keep my interests piqued – don't sleep on your chance to catch them in the future.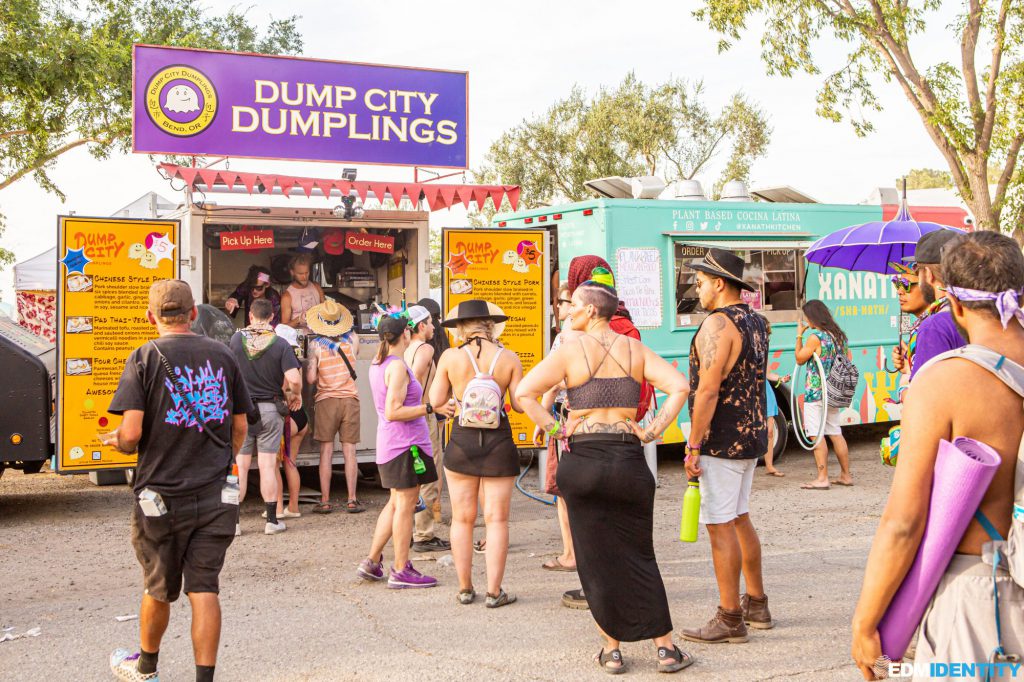 Photo Credit: Six degrees Creative
One of my favorite things to do at Lightning in a Bottle is to eat – and there were loads of delicious vendors to choose from throughout the festival.
There is cuisine from every culture and for any diet at LiB, so no matter what, you can keep your body full of nutrients and dance the night away without feeling like you're running on fumes. My strategy is to find the shortest route and grab something I can eat while on the move. If I am trying to treat myself, I'll get something and sit down for a minute, but I am usually on the move.
Lightning in a Bottle's first thing I ate was Lightning in a Bottle's first bite. Dump City Dumplings. They cost only $5 each for three different types of dumplings. I tried all of them. My favorite was the Pad Thai vegetable dumpling, but the Chinese Style Pork (and Four Cheese) were close behind. I will always try every sauce if it has a sauce. They have many to choose from, including regular soy, peanut, and cilantro.
I also enjoyed my meal at Notcho Fish Taco, which sold delicious fried cauliflower tacos with all the fixings that would make you forget you weren't eating an actual fish taco. Pierogi Posse was a great way to have fun, as they were affordable, quick, and delicious. They were also great at playing the jams while you waited for your order.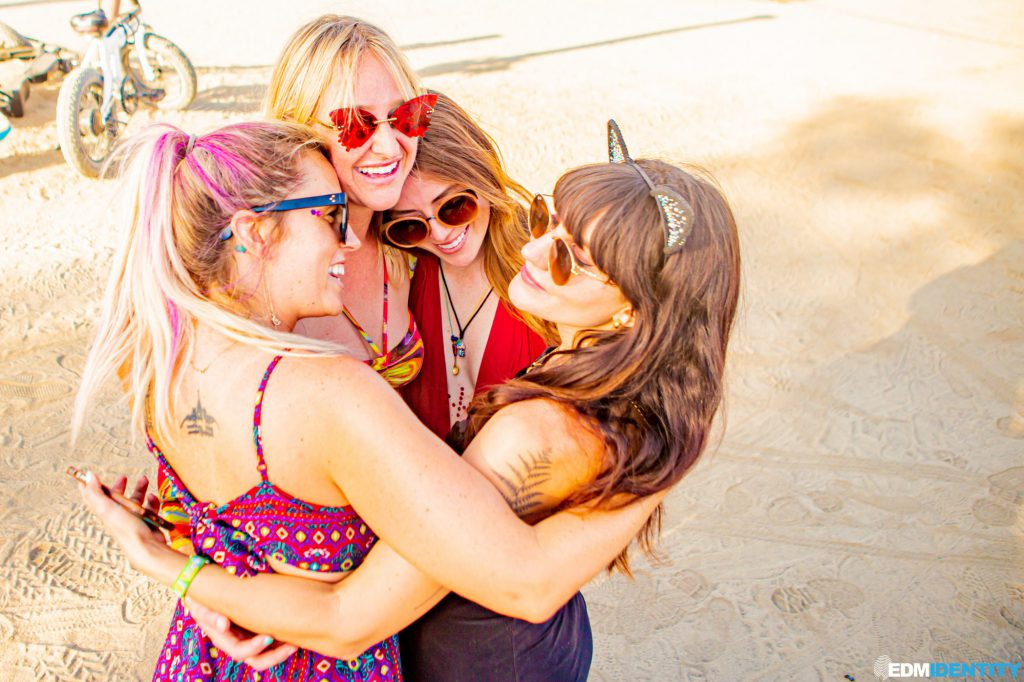 Photo Credit: Six degrees Creative
Food wasn't the only thing that nourished my soul over the weekend. I got to see my 2019 Lightning in a Bottle Family again, and we also gained some new festival family members!
One thing we have been most lacking over the past two year is a sense of connection with one another. Lightning in a Bottle reminded me of the importance of community, support, love and connection to happiness. Lightning in a Bottle always makes me feel rejuvenated. I think the music is what drives my experience. Still, the connections I make and the people I'm able to spend these special moments with make the festival experience more impactful.
It's been a while since I went camping with my brother. We've had so much fun at previous editions that the festival has become a tradition. It's always something special to look forward to, and I feel very grateful to have music as a bonding interest. Lightning in a Bottle is a magical place for connection because I can share what I love with those I love and meet more people. It's contagious energy fills me with joy whenever I think about it in the moment.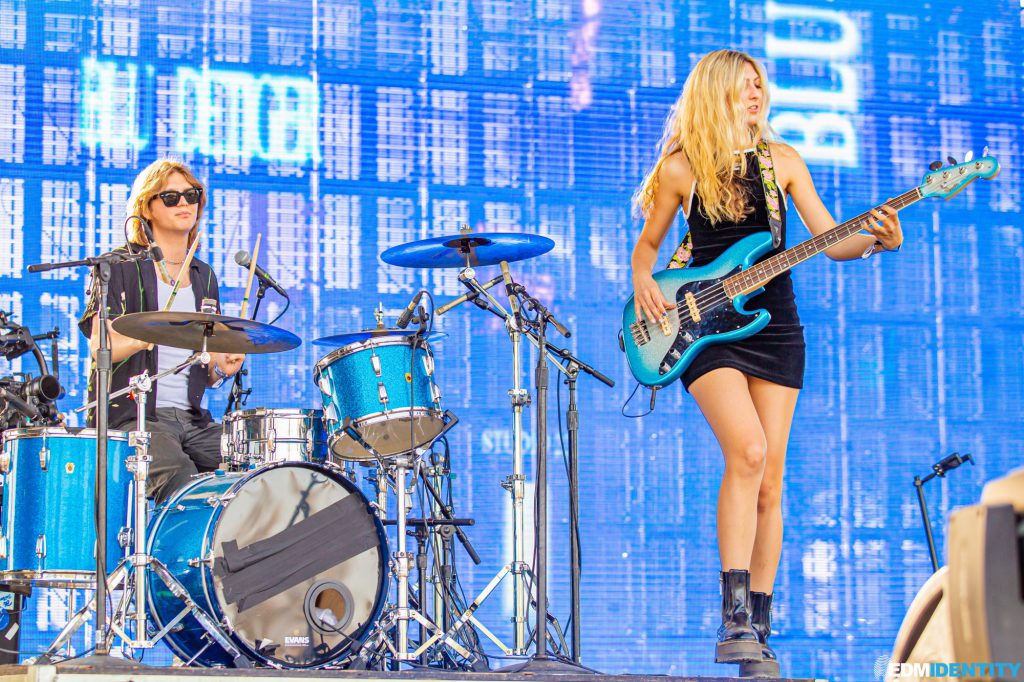 Photo Credit: Six degrees Creative
Blu DeTiger has funkified Friday's Lightning Stage, and I am a huge fan of new music discoveries.
After hearing about Blu DeTigerI knew she had to be at Lightning in a Bottle after her recent collaborations. Friday at 6:15 p.m. on the Lightning Stage. It's dancey, polished, and a good time all around. She performed her most recent releases, such as "Hot Crush Lover" "Blondes"You can also find a variety of tracks from her catalogue like "Figure It Out," "Toast with Butter," "Cotton Candy Lemonade."She also gets to jam with her brother, who is the drummer, which I think is very wholesome.
My weekend ended with one if my favorite artists. SG LewisHe performs on the Lightning Stage. His debut album was released. TimesIn 2021, he performed the show online during quarantine. However, he was finally able to take it on the road this year. Every time I see SG Lewis I find something new to love. Whether it's the guest vocalists he brings out to sing tracks like "Hurting"Or "All We Have Is Now,"His pure joy in playing music never ceases amaze me, as does his infectious energy.
As far as music goes, it's well worth saying that Chet Faker Glass AnimalsThey also put on some of their best shows on the Lightning Stage. Their set list was a comprehensive compilation of their entire discography. The visuals and sound were perfect where I was standing at the front right. I feel the need to give a shout-out to Hello Yes at Grand Artique.
Aaron Leibowitz and Mitch Bell, the ZHU saxophonist, released their new project, called Hello Yes The Grand Artique was a sensational venue. They have one EP and a few singles, which they performed live for the first-time, but they must have included a few unreleased tunes and heavily jammed, because it was another case where the…" "I haven't heard this, but it's everything I want to hear right nows." If you haven't checked out their music, I highly recommend it and stay in tune with what they are cooking up because it sounds great!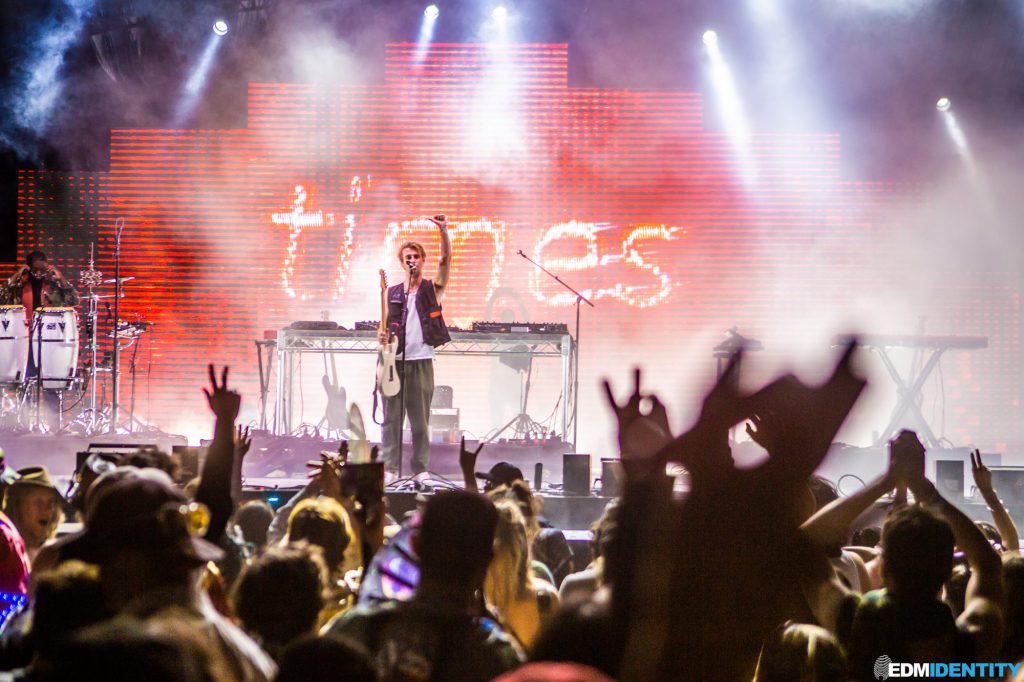 Photo Credit: Six degrees Creative
This edition of Lightning in a Bottle reminded me of why it's one of my favorite festivals to attend each year, and I look forward to returning next year.
Lightning in a Bottle revolves around good music, new friends and a lifetime worth of memories. A lot of festival goers return home feeling exhausted and uninspired. However, Lightning in a Bottle is magical. You can camp in 105 degrees for five days and come back feeling rejuvenated because of the people, natures vibrations, and general energy transfer.
It's important to remember those feelings and channel them into our everyday lives to make them better and keep you going. LiB!
Follow Lightning In A bottle on Social Media
Website | Facebook | Twitter | Instagram